Follow Fluxus 2012 /
Stefan Burger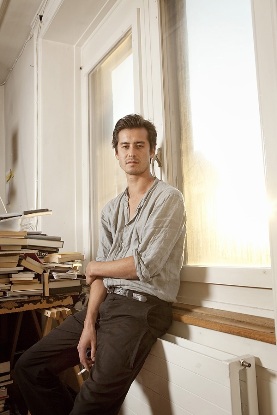 The scholarship Follow Fluxus – After Fluxus, awarded by the state capital Wiesbaden and the NKV Wiesbaden for the fifth time in consequence, was granted this year to the artist Stefan Burger (*1977 in Müllheim/Baden).
The 2012 jury of five consisted of Mary Bauermeister (artist, host of Fluxus events at Atelier Bauermeister 1960/61), Rein Wolfs (artistic director, Kunsthalle Fridericianum, Kassel), Michael Berger (Fluxus collector and patron, Wiesbaden), Dr. Isolde Schmidt (cultural office Wiesbaden) as well as Elke Gruhn (artistic director, Nassauischer Kunstverein Wiesbaden) and had to make a decision from 65 nominations.

Stefan Burger was proposed by Heike Munder, Director of the Migros Museum for Contemporary Art, Zurich. The jury explained its choice: "In his works Stefan Burger humorously detects hidden truths and apparently unimportant importance, juggling with everyday cultural and punning elements. His works have a performative origin and are transferred into constant and three-dimensional 'pictures'. Performance is his raw material, from which he develops his subtle titled multilayered work."
Rose-Lore Scholz, head of the Department of Culture in Wiesbaden, stated: "My thanks go to the jury, which agreed unanimously on Stefan Burger, who with his direct and descriptive artistic language, especially in the festival year for the 50th anniversary of Fluxus, will be an extraordinary enrichment for the existing exhibition and event program."